Meet the Team
Jackie Lloyd & Caroline Livesey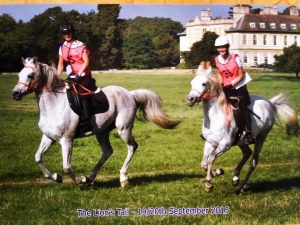 So what is endurance riding you may be asking?
People and horses compete in endurance events all over the world and it forms part of the World Equestrian Games but it is not as widely known as Show jumping, cross country, eventing and dressage.
It involves riding your horse over long distances, (between 40 and 160 kilometres) usually in a day, within a time-scale, and finishing with them fit, happy and healthy enough to continue even further.  All this is judged by vets throughout the distance and at the end.  Horses achieve a completion grade or a win based on their finishing fitness level. It's a little like orienteering on horse-back, or cross country without the jumps!
The horse has to be passed fit to start a ride or race by a vet and then, at intervals over the distance of the ride, the horse is checked and passed fit to continue.  This involves a thorough examination, including heart rate and recovery times, muscle tone, lesions and injuries, signs of lameness and general demeanour and well-being checks.
It takes a lot of hard work and commitment to get a horse fit enough to compete over these big distances, and of course, the rider needs to be quite fit too.  The fitter the rider, the more balanced he/she is on the horse, which in turn allows the horse to use itself as efficiently as possible. During the ride, the rider must maintain concentration as well as good balance over often difficult and uneven terrain in order to give the horse the best possible chance of succeeding, so it really is a true partnership of hearts and minds, as well as true grit and determination.  Mistakes can happen when tiredness sets in or concentration wanes, in either the horse or the rider! The rider must also be a competent map reader too as the distance has to be completed in the fastest time possible, so getting lost is not an option!
I started my endurance career many years ago with my first horse, a part-bred Arabian, whom is now thirty years of age and happily retired in her field at home.  The lovely Miss April was responsible for all that I went on the do with my future endurance horses and I have a great deal to thank her for.