The Winning Team Lloyd Endurance has impressive results
STOP PRESS:
Following the Regional Awards dinner in Lancashire I am thrilled to announce that REDHOUSE LILY MARLENE is  Lancashire's  Highpoint Endurance Champion for 2017.
Amongst her other Lancashire achievements were:
Winner: Graded Ride Champion Cup
Winner: Purebred Competitive Arab Cup
Winner: Pride of Lancashire Endurance Cup
2nd Endurance Champion
3rd Britannia Double
3rd Arab Cup
Zim Nazka:
Winner: Collee Memorial trophy for Highpoint Veteran Champion
Winner: Cumbria Za Trophy for Highpoint Competitive Horse in rides of 45k
5th Place in Graded Ride Champion
7th Place in Highpoint Champion
2nd Sam Weller Trophy
Well done Carolyn Cummings who rode my lovely girl last season. Take a look at what Carolyn had to say about her season later in this report … and about all Nazka's wins with SERC, the Scottish Endurance group!
One of the most thrilling achievements of the night for me was: The Chanel Pairs Trophy (awarded to the TWO horses achieving the highest number of points in (1) competitive rides of 64k and above and (2) competitive rides of 45k or below……And this award goes to the mother and daughter combination, Redhouse Lily Marlene, aged 8  and Zim Nazka, aged 18.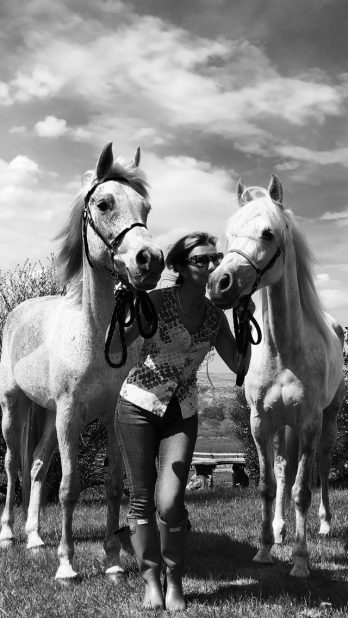 I gave Khalifa BJ a rest last season, which he wasn't too thrilled about, but he still managed to collect a few rosettes to bring home …. and he got extra carrots just like the others!
I do love my horses: I  am forever indebted to them for bringing me such joy and am always amazed at what they achieve ride after ride!
Thank you to everyone who plays a part in making it all happen … you know who you are!
And now, as I leave you,  to fill 12 hay nets,  wallow in the mud, and muck out in freezing temperatures,  I shall remember just why I do it ….
Nazka was Reserve Champion in the veterans class
| | | | |
| --- | --- | --- | --- |
| WINNER: | | CALIMEER | 530 |
| Reserve: | | C F WINTER AMADEUS | 500 |
| 3rd | | CUMBRIA KHAFIFA | 495 |
| 4th | | MILL STARLIGHT | 430 |
| 5th |   | RED HOUSE LILY   MARLENE | 385 |
| 5th | | BINLEY PRINCE SALIM | 385 |
| 7th | | CLAUDIUSS | 383 |
| 8th | | BEESTON HAKIM | 370 |
| 8th | | ZYTA | 370 |
| 10th |   | ZIM NAZKA | 360 |
| 11th | | ORLANDO | 310 |
| 12th | | RED HOUSE ROMEO | 296 |
| 13th | | OAKLEAZE FARM CZAMAK | 290 |
| 14th | | GUISBURN HANEEF | 285 |
| 15th | | CWYRTAI SHARIF | 253 |
| 16th | | KALISH | 235 |
| 17th | | ABERLLWYD BRIAR ROSE | 225 |
| 18th | | OAKLEAZE FARM CZIKO | 205 |
| 18th |   | KHALIFA BJ | 205 |
| 20th | | OAKLEAZE FARM CZAKO | 160 |
| 21st | | KAALIF | 150 |
| 22nd | | REMYNISCE | 130 |
| 23rd | | RUSADIA | 110 |
| 24th | | AH BELLYNDA | 105 |