So after years of Endurance I decided this season that we would enter the famous, or perhaps I should say, infamous, Golden Horseshoe Ride. Never having done this ride before, its reputation went before it: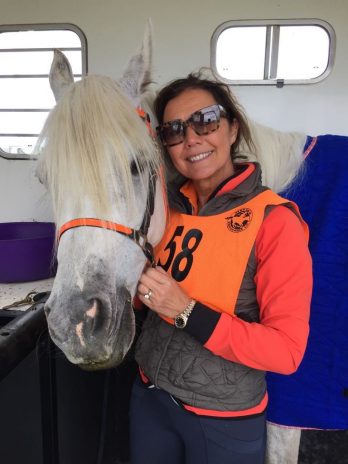 "Toughest ride on the endurance calendar"
"high up on Exmoor, weather always horrendous"
"a serious endurance challenge"
"old school endurance"
"you'll love it!" they all said.
"Wrap up well, take enough clothing for SIX rides, and brace yourself for the windy venue – with no water and no corralling"
They didn't mention the seven and a half hour drive, nor the tortuously winding roads for the last two hours of the trip! I felt as though we had earned our rosette for just getting this far!
Lily on the other hand took it all in her stride and arrived as fresh as a daisy – thank you Peter for some amazing driving and for giving her the most comfortable of journeys.
We had entered the ride quite late and so found all the B and B accommodations booked up … so "a glamping" we would go! We booked into a campsite to sleep in the Equitrek, and a campsite that would allow us to corral Lily… not many of those around are there?
It turned out to be fabulously pretty and very well equipped with wonderfully hot showers… and so "Jackie" was happy at least because she could wash her hair! The simple things in life, hey…
Lily was happy…. She could graze to her heart's content
And Peter was happy … the local pub served great beer and fab food!
So the morning of the ride dawned – wet, misty, freezing and windy. The glorious Exmoor views were non- existent and this ride promised to be a bracing one in these conditions. Even Lily, used to living on the top of a wild and windy Lancashire hill, was shivering!
I have NEVER presented to vetting with so many rugs on my horse, or wearing so many coats myself. I could barely move let alone trot my horse up! I think it was a case of the horse being sound but shame about the rider… what a good job we don't have to pass the vet!
Peter and I managed a hot coffee for breakfast but focussed all of our attention on keeping the star of the show warm and dry. Lily may have been feeling the Exmoor weather but she had a heart rate of 44 (higher than normal for Lily) and finished Day 1 on a 42, despite the freezing winds.
Now to the course; well it was certainly "technical" and was impossible to ride "rhythmically". It presented some very tough climbs as well as extremely slippery and rocky descents. I lost count of the number of river crossings. There were some trot able country lanes, moorland that was deep, rutted and boggy, moorland that was a steep as heck … and moorland that was idyllically canter able. What else can I say about the terrain? Oh yes, the views were as promised, staggeringly beautiful… and the free-roaming Exmoor ponies were a delight, if a little challenging for some of the horses on the ride. Lily had her moment when a herd of them cantered up to us from the side… and she took a little diversion from the route for a moment or two!
The other notable point to make about the route was that we rode a whole 80k without repeating any of the route. One 40k route going North and one 40k loop heading South. That was pretty amazing.
The ride wasn't without incident, when sadly a rider behind me rode her horse into lily's rear end on a steep and rocky climb causing Lily to fall to her knees and me to exit stage right, albeit gracefully! Miraculously on this very rocky track both of Lily's knees landed on a small patch of red sand and she suffered no cuts or grazes, but would she be sound, was of course my worry for the rest of the route.
After leading her for the rest of the incline and or what felt like an eternity, all the time wondering if my "Horseshoe" had come to an early end, I finally reached a suitable stretch of terrain where I could trot her and test out her soundness. My heart was in my mouth but all seemed good; she was sound, moving freely and happy to go on, and so we pressed on.
She vetted quickly and happily on a heart rate of 42, with a lovely A gait trot… and at Gold speed! All A's and 1's for metabolics …. And so into our overnight vet hold. Well done, Lily. Big feed, big massage, big rugs, big rest!
Meanwhile, I fell into my luxury overnight accommodation (Equitrek) with the worry of "soundness" as my companion throughout the night. Oh ye of little faith: she trotted up bouncy and beautiful, on her toes and raring to go at 6.30am!
Let the challenge of Day 2 commence: the weather today was a little kinder, but yesterday's downpours had made the moor very wet, deep, sticky and dangerous. I had to make a judgement call: Drop back on the Gold speed and keep my horse safe and sound, or push on in these conditions and take the gamble? I opted for the former and walked a lot of the moor. It was, after all, our first attempt at Golden Horseshoe and so the philosophy of "To Finish is to Win" was paramount in my mind.
It was a long queue for vetting…. Lame, lame,lame. The attrition rate was high but Lily vetted happily with yet again, excellent metabolics and another 42. I was thrilled to see her "on her toes" right after vetting when Peter took her for a cool down walk and relax, whilst I was able to say a quick hello to a few fellow riders. Thank You Plas equestrian and Emily for your company on a large section of the course; lovely horse and fantastic "young rider". They were professional throughout and demonstrated wonderful horsemanship skills. Both horses went well together and despite the age difference, so did the riders!
So to sum up, what else can I add? Well firstly, thank you to Peter for your awesome crewing and unfailing support. You are simply fantastic and I could not do it without you.
Thank you to my "Home Team", Daniel, Mum, Geoff for holding the fort whenever I ask it.
Thank you to my "support" crew who all play a part: Carolyn for training, vet, farrier, physio and dentist for keeping my wonderful horses on the road, to six year old "Gracie" for helping Peter to feed and muck out!
Thank you to my sponsors, Oakenhurst Aircraft Services and Beau Holdings, and to Raid Equestrian for supplying kit.
Finally, my thanks go to the ride organisers for a well-organised event and to the many riders and their lovely steeds out on course who all play their part. Endurance is unique for its "shared encouragement" and "teamwork" … opening gates, offering words of praise and motivation, taking a lead, offering a tow, spurring each other on, being positive, staying together, making sacrifices in the interest of the horse and demonstrating team spirit when things don't go according to plan, sharing equipment, camaraderie, and working together when it matters!
That's Endurance!
That's Golden horseshoe!
And the icing on the cake? Lily came 5th in the Performance Formula Awards!